Badger article written by Mohawks open captain 2013/2014 Sam Airey.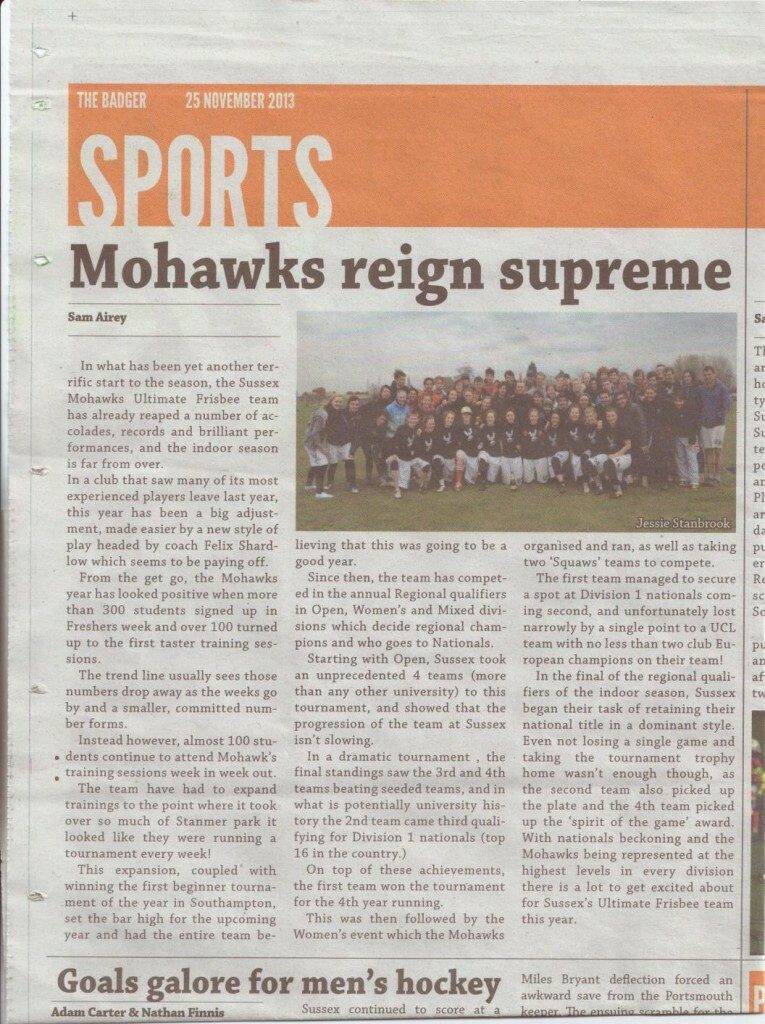 So, on Wednesday 22nd and 27th January, 1.00 pm til 3.45 pm, Mohawks are running 'trials'. No-one is going to be cut from the club and there will be weekly sessions that the whole club is welcome and encouraged to attend, but this is basically a chance for the captains to see where everyone is at after the first term of the year. From how well people perform at these two sessions, the captains are selecting for their "training squads" for the outdoor season – these players will be asked to attend the invite-only sessions on Wednesdays this term (1-3pm). The post-3pm session on Wednesdays this term will remain an inclusive and open training, for anyone who wishes to attend, whether they have made a training squad or not.
EVERY MEMBER OF THE CLUB WHO WANTS TO IMPROVE AS A PLAYER IS WELCOME AT THESE TRIAL SESSIONS.
If you don't want to come to the trial sessions (but hopefully everyone does!), still come along at 3.45pm on these two Wednesdays for a fun game of ultimate and to catch up with everyone after the holidays.
The first 'trial' will be refreshing your basics (throwing, catching and cutting), whereas the second will deal with some slightly more advanced stuff (positional D, hucking, breaking the mark). There will be lots of game time at both sessions.
The trials will finish at 3.45 – and we'll have just shy of an hour of light for a fun, relaxed, no pressure game, which everyone is welcome to play in, even if they haven't been to the trials.
We're really excited about seeing how everyone's progressed over the term, and to make you guys really show off your full potential, we've even put some little tips together to help you impress at trials.
Things you can do to impress with zero effort
– Focus in – focusing for a whole 2 hours is tough, so take your breaks in concentration at the right points – in specific water breaks, etc. rather than during drill explanations. Keep your eyes wide and trained on the explainer, and signal with your body language to the captains that you are paying attention.
– Try what you're asked at trials – don't explain to the coach why it's definitely a bad idea or why you haven't been doing it til now, or why this drill isn't entirely realistic. Just do it – and actually see if it works.
– Work hard even when you're subbed off in the games – talk to a buddy on the pitch, let them know what's happening. On D, let them know that their person is looking, or if the disc is moving to a hucker, whether they're now the person who should be looking to help with deep threats. On O, encourage them, remind them to cut hard, clear out, make space for others. Let them know if there are poachers in the lanes. If you're a newer player, don't worry if you don't really know what to say – just make sure you stay engaged in the game even if you're not on the pitch.
Things you can do before to prepare for trials
– Refresh your throws – chances are you've thrown a little less over the holidays. Get some touches in before trials. For throwing, more is more. If you can throw every day between now and Wednesday, you will do better at trials. Simple!
– Remember how ultimate works on Monday night in Hove! The best way to remember how ultimate works is to play ultimate. Monday night is a good opportunity for this – it's at Hove Rec, close to Hove train station – and is a good opportunity to get some pitch time and disc time before trials. Floodlights are on at 6.30, and training starts at 7pm sharp. Shout out on the facebook group if you want to go but are unsure where you're going.