All my previous blog posts were written as an ultimate player with no titles. This one is being written by a national champion player. Great title, no? When it comes down to it, it basically doesn't mean anything. I never played for big titles since I will rarely get them. But what does it mean to be a national champion really? Why will I remember that day till I die? Why will it be one of the happiest memories of my life?
Anyone who knows a little bit about the 2011-12 roster of the Mohawks 1st team knows that I did not get to play much during both regionals and nationals. This was something that at times had brought me down, you might get a medal but you think that you had no part in winning it. But do you remember what I said about being part of a team before? That day, once again and in an undeniable way this time, showed me the importance of being part of a team, being a Mohawk.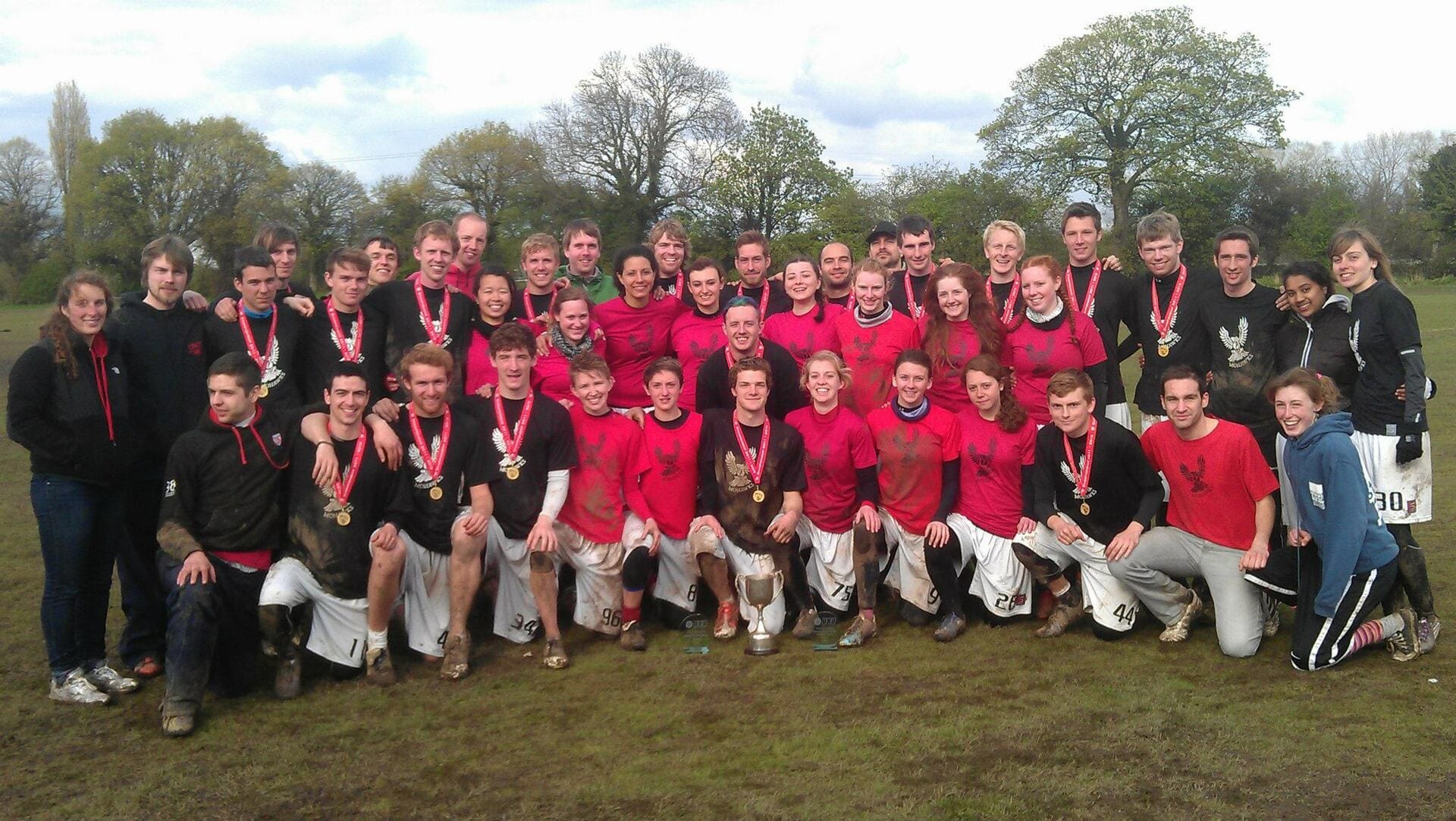 It was when I went to hug Rich and he said to me with the biggest smile I've seen on his face "this was why you came to the UK wasn't it Dude?", we hugged (never hugged a guy that passionately before) and he said "I love you buddy." and I replied "I love you too buddy.". Had never said that to a dude before.
It was when Ed was feeling bad about his defence that I told him that the almost-D he got on that dump pass is now in their heads, and they are scared now that they can get D'd at every throw and seeing his face lighting up, gaining trust in himself again. After the final we hugged and he said "Thank you, Dude. I don't know how but every time you shouted on the sideline I knew it was your voice and I could trust it.".
It was when Kneetu on the ride back told me that the point we scored together (from a hammer of course) was his favourite point of nationals even though he scored the sudden death point that won us the game at the semi. Rich told me he had never seen such a casual hammer throw and that he loved it when I raised my hands into a V shape (hand signal for a score) when Kneetu caught the disc, it was a great minute to be alive in.
It was when Shimmy came up to me and said "Congratulations champ, you were a huge part of this team, maybe you didn't play much but you were there on the sideline, not stopping for a second, you were at every practice, working hard with us and helping everyone push themselves to their limits, being part of a team.". That was when I couldn't say anything. I didn't want to start crying in front of him.
Then the cosmos decided to give us another piece of memory never to forget. We came together for the last time in a huddle, Ash said some great things that probably none of us can remember now, we were so full of joy and excitement, all that work in the rain, in the mud, in the wind.. Up the hills, over and over again, thousands of throws, screams and fights, for some, hours at the gym, nights out bowling and drinking.. We were champions. It was over.
1.. 2.. 3.. MOHAWKS!!!
We said, right next to the endzone where the Squaws were trying to score in. Then we heard the Squaws scream.. They had just won the game, right next to us.. Huge group hug of course, Selina asked me what we had done? I said "we won of course", I don't know why she had any doubts hehe, we hugged. Double National Champions.
If you think I'm just being poetic or emotional, just watch the video and listen carefully at the 27th second, hear our Mohawks chant.. Oh cosmos..
(the embed does not seem to be working: http://www.youtube.com/watch?v=AuUBsx8KyHE)
Ash was so happy that he didn't even care when we wrote the results of the F1 race that weekend on a piece of paper and showed it through the window while passing them by in the car. Jazz enjoyed it so much that he congratulated us with a text..
And who can forget the times right before the final, in the changing room, where Football, in order to prove his manliness  beyond any doubt to us by claiming that he can "pull any girl at a 16ers party".. Man oh man..
It is these and many more small pieces of history that will stay with me, now that my year with the mighty 'hawks is over, never to be back again. It was an amazing year that taught and gave me so much.
It is all these small things that makes all of it worth it, all the effort, all the pain, all the hill sprints, all the money, all the weekends.. For a team this great, one regrets nothing.
It was an amazing experience being a Mohawk, and sadly it has come to an end, as all good things do.
But you know what they say;
Once a Mohawk, always a Mohawk!