A few months ago during one of our practices Felix was berating us, the experienced players, for not helping freshers enough, people were not staying after the experienced practice and were not helping freshers. One thing he said at that moment still sticks with me and I think it will for a very long time. He had said "This is your way of giving back to the club, this is where you learned the game and now you give back by helping other people.". These weren't his exact words but you get the idea. For experienced players the importance of giving back might not be so apparent so let me try and explain.
I started playing ultimate in Turkey, a country with a population of over 75 million. The number of ultimate players in the country: around 200 is my guess (it's growing very fast though). There are so few teams (6 active teams -4 uni, 2 club-  in 2 cities, 3 or so teams are trying to be formed) that Club and Uni teams play together in tournaments and we always play Round Robin. I'm giving all these numbers so that you can guess the amount of experienced players: very few. Apart from the 21 (plus a few more) players that have played at Windmill last year, no one had played outside the country.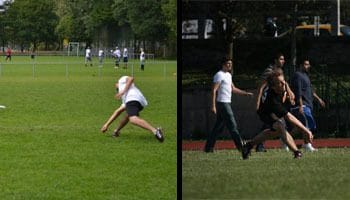 In an environment like this, it's very hard to develop skills beyond a certain point (which isn't too high), there aren't many players you can ask questions to. If we had an experienced player visiting, I would stick right behind them (well not in-game), watching their every step, asking everything I can think of and talking about tactics. I was obsessed but didn't have a lot of people to teach me. I watched highlight videos over and over again, tens of times, watching every small detail in players' movements, fakes, throws, cuts.. I watched this highlight video of Oregon Ego hundreds of times, at least twice a day (they have good videos btw). I watched Cody Bjorklund (6) obsessively, he's still one of my idols, showing me that big guys can play really good ultimate too (I was a tad fat when I started playing ultimate). I learned forehand hucks watching him and trying his throws with my girlfriend. Guess I should start doing it again since something's wrong with them these days.
So what does all this have to do with anything? Well now that I am in Brighton where ultimate is really good (tons of national players, lots of amazingly good players and athletes and all of them extremely friendly) suddenly I was in heaven. I wasn't the one helping people out, I was the one being helped out. I could go and ask someone what I was doing wrong and immediately get an answer. To have a coach like Felix with years of experience, amazing people like Shim and Rich helping you out at every step.. Well forget all that, just even having the chance of being able to watch players like Ash, Callum, Robbie, Rich, Felix, Dyno, Meg, Bob, Longface, Pencil, Fetu, Mental, Edgars etc. etc. (just a few of the names that popped, so many more).. All these amazing players not just playing great but trying to help you if you ask for it. I can not emphasize enough how important this support is to a beginner, even just having the chance to be around these people is huge.
I remember at one of my first practices, I asked Bob how to throw a push pass. I had been trying since I started playing and had had no success. She just explained it to me in one sentence and suddenly I could throw them. It was never explained to me in the right way before, so she didn't even have to show me, it just worked. All I needed was a definition that made sense to me instead of hours of practicing the throw in a wrong way (of course now I have to practice it the right way for hours).
I think that even beginners who are serious or will become serious about ultimate are not aware of how lucky they are in Brighton, or anywhere where there is good ultimate with nice people. One can work really hard, do the physical, the theoretical and the mental work but experience can only be gained on the field and the input of experienced players can triple or even quadruple the pace of the learning curve for beginners (does this sentence make sense?).
All this is why I was really struck by what Felix said about giving back. Not just to a club, but also to the sport of ultimate. I know that all these people who sacrifice so much for ultimate do it because ultimate changed their lives one way or another. That's why we give back to this beautiful sport, so that others can get injected with the poison too.
So I'm talking to you experienced players, give back.  For the people who need and want it it means much more than you can ever imagine. Never forget what ultimate did for you and what it can do for others too. Spread the word, help out, give back (instant karma gain guaranteed).
Dude out, peace.
(Shimmy did not edit this one, that's why the English is even worse than the previous post, sorry guys)